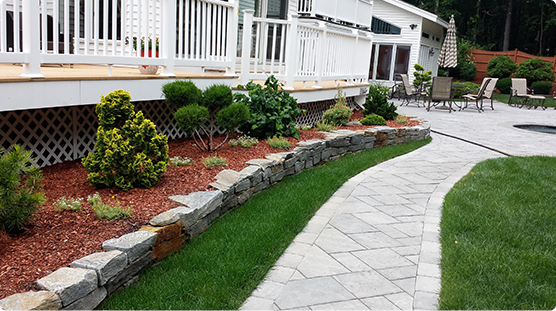 Paver Walkway Installation - K Clough Landscape & Design
K. Clough Landscape & Design, LLC provides paver walkway
installations for existing homes as well as newly constructed homes. If your front walkway needs a face-lift or if you simply want to replace and old walkway with a new and improved version our ICPI certified experts can help.
K. Clough Landscape & Design is a Concord, NH based landscape and hardscape company that has extensive Walkway design and installation work. Our team will design and install a paver walkway that will look beautiful for many years to come.
What To Expect From Our NH Walkway Installation Team
Our total commitment to your satisfaction is what separates us from any other New Hampshire walkway installation contractor. Voted top Concord NH landscaper multiple years straight, we offer quality workmanship through experience, reliability, responsibility, and dependability.  You can put your trust in our team of landscaping professionals.
We are skilled in constructing walkways of all shapes and sizes.  Our team specializes in walkway design, walkway installation, walkway pavers, brick walkways, stone walkways, walkway stairs, walkway steps and more.  
Custom Walkway Installation Serving Central New Hampshire
Even if you are unsure exactly what you want for a walkway we can help you.  Our team of landscaping professionals can help guide you through the process of choosing a walkway that fits your needs.  We can help you select the ideal walkway size, shape, and materials to ensure that it fits nicely with your home, stays within budget and makes your vision a reality.  We can even work into into the design of a pool or patio if you wish.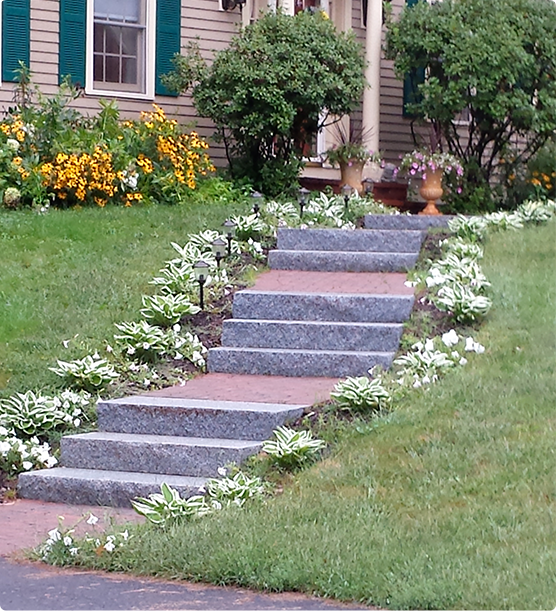 For a Free Estimate Click Here or Click The Button in the top right hand corner of the website.
Sincerely,
Kevin Clough
Owner of K. Clough Landscape & Design, LLC